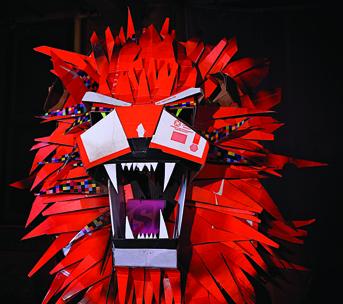 June 5 to August 7, 2011
Curators: Beth Hart and Eleanor Spiess-Ferris. "CUT" is a process driven exhibition.  Although the making of paper goes back to at least the 3rd century, the oldest surviving paper cut-out originated in 6th century China and has a long, world-wide tradition in art that dates at least to the Middle Ages in Europe.
Exhibiting Artists: Jesse Kate Harrod, Doug Stapleton, Ling-An Fang, Richard Shipps, Mark Rospenda, Bruce Kresnoff, Helene Smith-Romer, Christophe Roberts, Susan Giles, Shawn Sheehy, Jang Soon Im, Brian Dettmer and Sarah Steinwachs.
Contemporary artists use many techniques. Traditional collage, 2- and 3-dimensional cut paper forms, digital technology of "cutting", "pasting" and "replicating", and dvd "action cartoon" of cut paper characters demonstrate only some of the variety of creativity featured in "CUT".  Every artist in the exhibition uses the technique of cutting as a starting point to achieve a unique expression.  The ingenuity of each of the featured artists will be a delight and, perhaps, an inspiration to the viewer, whether artist or lay audience.  "CUT" artists will offer a variety of workshops during the course of the exhibition featuring such activities as the making of a "pop-up" book and others.