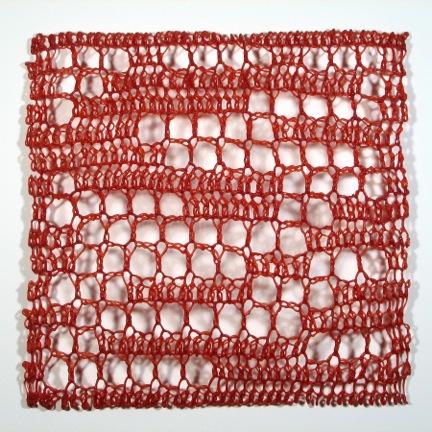 September 23 - November 4, 2012
Con Templum is curated by Mary O'Shaughnessy with participating artists Barbara Cooper, Yvette Kaiser Smith, and Charlie Van Gilder.
In ancient Rome there was a practice of looking at the heavens through a frame, or templum, creating a space for observation. This narrowing of the focus to open up creativity is the theme of this show.
Each of the artists have concentrated their attentions, either in nature, math or pattern, creating diverse, intricate sculptures, that ask you to stop, and spend some time with each of them.
Yvette Kaiser Smith's crocheted fiberglass sculptures are created using mathematical equations, like the fibonacci curve. The results are ordered, undulating forms, that suspend from the wall, casting shadows that confound the eye, what is solid and what is not.
Barbara Cooper's wood sculptures are an observation of forms in nature and how they react to the stresses and obstacles that they confront. The sculptures are organic and uniquely individual.
Charlie Van Gilder's wood sculptures are arrangements of limited elements creating structural patterns. He has observed the poetry and lyricism that is embedded in the sequencing of regular elements.
artwork pictured here by Barbara Cooper
Here are websites of two of the artists.
http://www.kaisersmith.com/index.htm
http://www.barbaracooperartist.com/