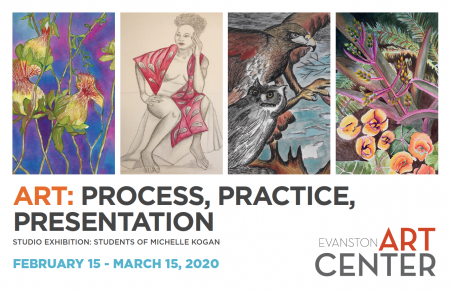 Studio Exhibition: Students of Michelle Kogan
February 15 - March 15, 2020
Opening Reception: Sunday, February 16 from 1 - 4pm
IÔÇÖve had the great privilege to work with many talented students over the ten plus years IÔÇÖve been at the Evanston Art Center. Curiosity, perseverance, dedication, and challenge are all qualities that come to mind when I reflect back on my students and their art pursuits. 
IÔÇÖm happy to present a sampling of my studentÔÇÖs art from the following four classes I teach: Figures and Nature Drawing / Painting; Watercolor: Materials, Composition & Technique; Children's Picture Book Illustration; and Pen & Ink & Watercolor. Enjoy and reflect on their process, practice, and presentation in this rich exhibit of their artwork!
- Michelle Kogan
Instructor Evanston Art Center
The ongoing Studio Exhibition series highlights the variety of exceptional artwork made in our EAC classrooms by featuring student work in our galleries. Each Studio Exhibition is coordinated by the instructor, who curates contemporary and thought provoking exhibitions of their studentsÔÇÖ artwork.