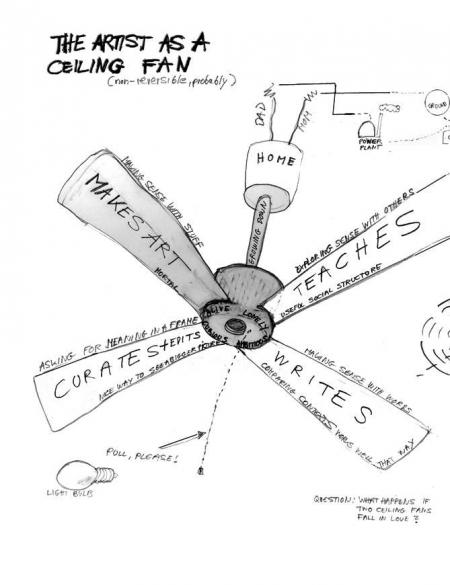 September 9 – 22, 2013
In the context of an Arts Economies graduate seminar, a group of the School of the Art Institute of Chicago's Arts Administration and Policy graduate students, with Professor Adelheid Mers, were invited by the Evanston Art Center to study the 'arts ecology' of Evanston. A goal was to better understand the roles that Art Centers play in their home communities while navigating a complex set of interests and serving multiple publics.
From September 9 – 22, EAC's galleries will showcase the research and resulting documents of this special field work project. We hope you'll join us on Saturday, September 21 from 3 to 5 pm for a Roundtable Discussion about this special project and its insights and actions out in the community and inside the Evanston Art Center. 
SAIC participants:
Adelheid Mers: Associate Professor, Chair, Arts Administration and Policy
Gabrielle Burrage: MA Arts Administration and Policy
Cassie Carpenter: MA Arts Administration and Policy
Jenni Groot: MA Arts Administration and Policy
Raven Falquez Munsell: MA Arts Administration and Policy & MA Art History
Gan Uyeda: MA Arts Administration and Policy & MA Art History
With Sincere Gratitude to:
Joshua Allard, Jon Arndt, Brenda Barnum, Keith Brown, Leslie Brown, Amina Dickerson, Norah Diedrich, Christina Ernst, Rick Ferguson, Michael Gonzalez, Justin Hart, Ariel Hartman, Alicia Hempfling, Mie Kongo, Michael Miro, Adriana Poterash, Bea Rashid, Faiz Razi, Tim Rhoze, Dino Robinson, Jr., Karla Rindal, Matthew Runfola, and Tess Stevens