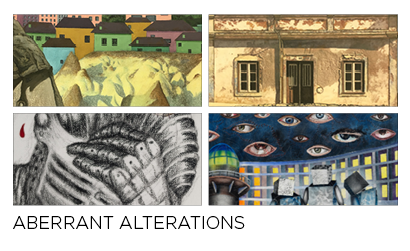 APRIL 24 - MAY 29
OPENING RECEPTION: Friday, April 29, 2016 5-8 PM
Aberrant Alterations, a unique collaboration between local artists Jacqueline Moses and Kathy Weaver, showcases a multitude of 2-dimensional work that conveys the idea for significant reformation in today's industrial world with a goal to heighten citizen awareness of the need for environmental improvements. Moses and Weaver's work suggests the paradox of technology being used as an instrument of destruction, emphasizing the results of over-engineering and its impact on biological values and human nature. Together Moses and Weaver's work is very cohesive, pushing the need for a major transformation in today's society and implying that the "progress" being made no longer implies improvement, but violation and devastation. 
Gallery Hours
Monday - Thursday: 9 am - 9 pm
Friday: 9 am - 5 pm
Saturday and Sunday: 9 am - 4 pm
Galleries are handicapped accessible.
Exhibitions are free and open to the public.