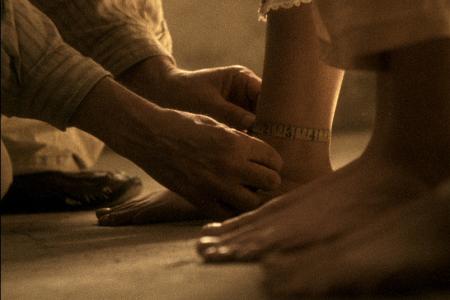 Through informal discussion, the Evanston Art Center was fortunate enough to connect with Thomas Comerford and Melika Bass for a filmscreening of Indian Boundary Line, 2010 and Shoals, 2011. The Evanston Art Center's Education Program is honored to present two films that we feel connect to our local cultural heritage and explores the idea of imagined history in the Midwestern landscape. 
Melika Bass' Shoals, 2011
http://www.tenderarchive.com/shoals.htm

Thomas Comerford's Indian Boundary Line, 2010
http://www.thomascomerford.net/film.html
 
Synopses:
Shoals is best described as  a prairie grotesque. On the grounds of a rural sanitarium, three young women search for wellness, as a cult leader seeks to control their bodies through labor and daily rituals. 16mm film to HD video, 2011, 52mins. "Shooting in 16mm film and exhibiting in digital video, Melika Bass's experimental films are characterized by intricate, cyclical structures that emphasize sound and visual textures over traditional narratives. Making use of both non-professional actors and performance artists, her films often reveal a subtle surrealist influence in their focus on odd, inexplicable actions and situations."      -Michael Green, Curator, Museum of Contemporary Art Chicago
The Indian Boundary Line (2010) follows, as Comerford notes, "a road very close to my home in Chicago, Rogers Avenue," that traces the 1816 Treaty of St. Louis boundary between the United States and "Indian Territory." In doing so, it examines the collision between "the vernacular landscape, with its storefronts, short-cut footpaths and picnic tables, and the symbolic one, replete with historical markers, statues, and fences." Through its observations and audio-visual juxtapositions, The Indian Boundary Line meditates on history and its relationship to the landscape, with its own shifting boundaries, designs, uses and inhabitants across two centuries.