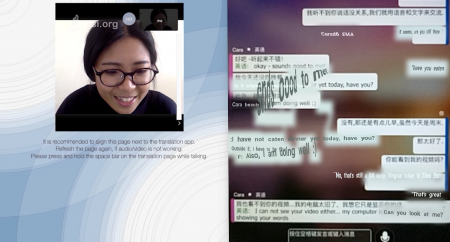 On Sunday, February 21, 2021, the Evanston Art Center is pleased to invite the public to the opening of an exhibition featuring the work of Jiaqi Zhang.
The artist will be present during the event.
Time slots to view the exhibitions are 12:00pm - 1:00pm; 1:15pm - 2:15pm; 2:30pm - 3:30pm. Registration is required, as a limited number of visitors will be allowed in the gallery space at the same time.
The safety and security of gallery staff and visitors is essential.
ALL visitors are required to wear masks and take their temperature upon entry using provided gloves, and share results with an EAC staff member.
Please adhere to 6' social distancing requirements when in the gallery space.
---
ABOUT THE EVENT | 吃了吗? Have you eaten?
I invite you to this in-person chat. While you will be speaking your native language, and I will speak mine. We will communicate through a translation app. We can chat about random stuff, share stories of life during the pandemic, or we can play a word guessing game if you like. 

The language we speak shapes the way we think. Through this translation app, it definitely tweaks and shapes our way of understanding each other. In the book "Don't Believe a Word: The Surprising Truth About Language" by David Shariatmadari. He sees linguistics as "the universal social science", one that teaches us not just about language but about how we live and make sense of the world. 

When we learn how the world is made through words, we also learn to be skeptical of our current iteration of reality and more tolerant of other perspectives. If life can be differently worded, it can be differently lived.

I am looking forward to sharing this experience with you.
Please sign up for a time slot via EventBrite. It will be exciting to figure out if we will understand each other more or got misunderstood. I am looking forward to sharing this experience with you.

Talk to you soon!