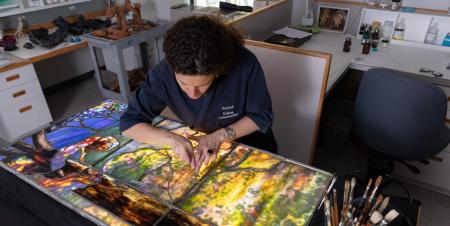 On Sunday, May 30, 2021 at 3pm, join us for a virtual lecture about "The Inner Life of a Bronze Dionysos" featuring Rachel Sabino.
This lecture is a part of the ongoing EAC series, "In Focus." "In Focus" features a variety of talks and presentations by ​artists, art professionals, historians and more!
The Art Institute of Chicago is fortunate to have one of the very few bronzes to have survived from antiquity—a monumental bronze statue of the god Dionysoss—on long term loan to the collection. While the sculpture's arresting beauty and imposing scale are immediately apparent, equally fascinating aspects lie beyond the eye's reach. Join Art Institute objects conservator Rachel Sabino for a look deep inside the sculpture during a discussion of the extensive technical study carried out on this important object, revealing new insights as to its dramatic history, ancient casting methods, and previous restorations.
ABOUT THE SPEAKER
Rachel Sabino is an Objects Conservator at The Art Institute of Chicago.
ABOUT THE EVENT
REGISTRATION IS REQUIRED.
Please register online through EventBrite.
This lecture will be virtual, and available via Zoom. After registering on Eventbrite, a day before the event, we will email you more information on how to log into the event via Zoom with the Meeting ID and password.
Please note that in-person tickets may be available at a later date.
This event is free and open to the public.