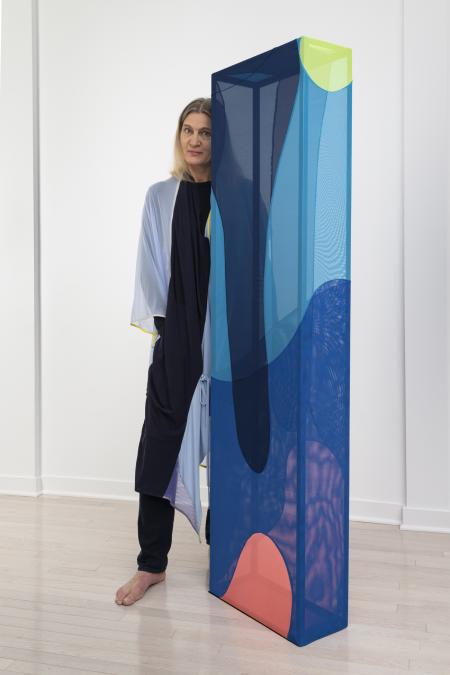 On Sunday, May 22 at 3pm, join us for a lecture featuring Katrin Schnabl. 
This lecture is a part of the ongoing EAC series, "In Focus." "In Focus" features a variety of talks and presentations by ​artists, art professionals, historians and more!
In recent years Katrin has focused primarily on the kinetic paintings and scrolls titled Portal (that are currently on view at the Highland Park Art Center exhibit Fiber-Fashion-Feminism through June 11). While these pieces, in technique, draw on her sartorial expertise, they exist without the body as armature. Dimensional, dynamic, and delicate, curve seams delineate tinted shapes that overlay onto themselves and creating a mesmerizing sensory experience.  In 2022 Portal has been selected for and featured in 'New American Painting' issue 155.
ABOUT THE SPEAKER
Katrin Schnabl is an artist, designer, and educator. Trained in dance, Schnabl moved to New York from her native Germany, where she honed her skills creating costumes for dancers. She shifted towards fashion after graduating from the Fashion Institute of Technology. She relocated her practice to Chicago, where she currently serves as Sage-Endowed Chair in the Department of Fashion Design at The School of the Art Institute. Her garments have evolved into spatial 3-D kinetic paintings and scrolls, allowing her to intersect dance and movement with fashion and installations. Her "interactive membranes" amplify the dualities between the viewer and wearer, inner and outer, and latent and manifest. During her sabbatical, and triggered by loss, she began work that captures these dynamic and charged spaces in between through Portal, a series of dimensional metal frames draped in bold, transparent fabric.
PORTAL is a series of rectangular metal frames, resembling doorframes, and scrolls swathed in a surface of sheer solid-colored fabrics, curvilinearly stitched together, forming a dimensional unit. The pieces are large, ranging in height from about four to 10 feet. The fabrics are mesh polyamides and leftover pieces accumulated from Schnabl's career as a fashion designer, and the colors range from vibrant blues and electric greens to deep browns and reds. Currently, there are nine pieces comprising Portal, including Conception I, Conception II, Chant I, Chant II, Life and Death I, Life & Death II, Bodies between Bodies I, Portal 1.2 scroll, and Portal 2.3 scroll. Schnabl exhibited Portal 1.2 and Portal 2.3 scrolls for Art-in-Place, a collaboration between CNL Projects and Terrain Exhibitions that asked artists to exhibit an artwork outside their home or from a window visible to the public. Perhaps more than the other works in the series, the scrolls demand the viewer's focus, for the smallest movement of the scroll creates an entirely new set of patterns, colors, surfaces, and observations.
"If I was a painter, this is how I would paint," Schnabl explains. The dimensionality of the works give them a body, allowing her method of painting to extend beyond the canvas, making the pieces something in between a painting and an installation. The desire to give the works depth comes perhaps from her years of pattern-cutting and design expertise and working with the human form. "I was in dressing my feelings in a way," she adds. By imbuing the works with the body of a metal frame, Portal offers the viewer several surfaces to contemplate and encourages a dynamic relationship as one ambles around the works. The lines created by the stitched seams in Portal continue unto themselves, dip into and activate new shapes, recede and reappear, move with the light, and depend upon the viewer's movement around the piece, always providing multiple perspectives. Schnabl continues to seek out new ways of expanding the works and plans to exhibit Portal in 2021.
ARTIST BIO
In my practice, I connect patterns of movement to the patterns of a garment, in order to amplify the link between the body and the space around it. This leads to the exploration and fabrication of set-like structures that serve as extensions of body. These structures, whether garments or objects, not only hold meaning within them but can also activate a space through their presence. This exploration results in the creation of what I term "proto-structures" or blueprints that can be manipulated to produce different iterations of a garment based on the same pattern or construction, or be investigated apart from the body. It is a methodology, which forms the basis for my work and research, one which straddles art and design. The process of imbedding meaning into pattern-making techniques also informs much of my installation work. By placing my hand-cut and sewn assemblages into unexpected locations, I want to heighten our perception of clothing as a membrane that filters information between individuals and their shifting contexts and interactions, whether on or off the body. While addressing questions of scale and proportion, these assemblages are both process and agent of issues touching and shaping the world in which we live, such as environmental degradation and consumerism. (In my Limb series, for example, I stretched membranes of hand-knitted repurposed plastic bags onto hexagonal and circular frames.) My installations reflect an ongoing exploration into how the viewer negotiates and navigates internal and external spaces, allowing an open and expansive embodied investigation.
ABOUT THE EVENT
This lecture will be held virtually via Zoom. Register today!
This event is free and open to the public.