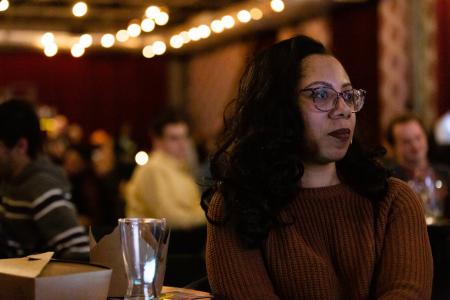 Join us for a lecture "That's What a Song Can Do:" Etta Moten Barnett, Black Chicago, and Performing the  Global Freedom Struggle, featuring Angela Tate, Public Historian and Ph.D student in History at Northwestern University. 
This lecture is a part of the ongoing EAC series, "In Focus." "In Focus" features a variety of talks and presentations by ​artists, art professionals, historians and more!
This lecture focuses on the radio broadcast career of Etta Moten Barnett (1901-2004). Moten was a dancer, broadcaster, actress, black feminist, and Pan-African activist based in Chicago, who used her career to promote, perform, and explore the work of black women across the globe. In the 1950s, during the height of the Cold War and the Pan-African movement, Moten hosted a radio program called I Remember When, which was broadcast from the NBC affiliate, WMAQ, in Merchandise Mart. Moten reflected on her own life and career, and interviewed many other black women artist-activists in the US, Caribbean, and West Africa. The lecture explores this radio program as the framework to share how black women used art and performance as a specific form of civil rights activism, the bonds and conversations cemented across the diaspora and across generations, and the importance of Chicago as a site of international activism in the 1950s.
ABOUT THE SPEAKER
Angela Tate is a public historian, writer, and doctoral student at Northwestern University. Her research looks at the relationship between Black women artists and performers and civil rights activism in Chicago and the broader world. Prior to moving to the Midwest, she worked at a variety of cultural heritage institutions in Southern California. More information at atpublichistory.com.
ABOUT THE EVENT
REGISTRATION IS REQUIRED.
Please register online through EventBrite. When registering, please indicate if you would like to attend IN-PERSON (at Evanston Art Center) or VIRTUALLY (via Zoom).
For in-person attendees, a limited number of visitors will be allowed in the gallery space at the same time. Masks are required.
For virtual attendees, the talk will be available via Zoom. After registering on Eventbrite, a day before the event, we will email you more information on how to log into the event via Zoom with the Meeting ID and password.
THE SAFETY AND SECURITY OF OUR VISITORS AND EAC STAFF IS ESSENTIAL.
ALL visitors are required to wear masks and take their temperature upon entry using provided gloves, and share results with an EAC staff member. Please adhere to 6' social distancing requirements when in the gallery space.
This event is free and open to the public. 
Image courtesy of the Chicago Reader.