Date:
Saturday, March 23, 2013 -

7:00pm

to

9:00pm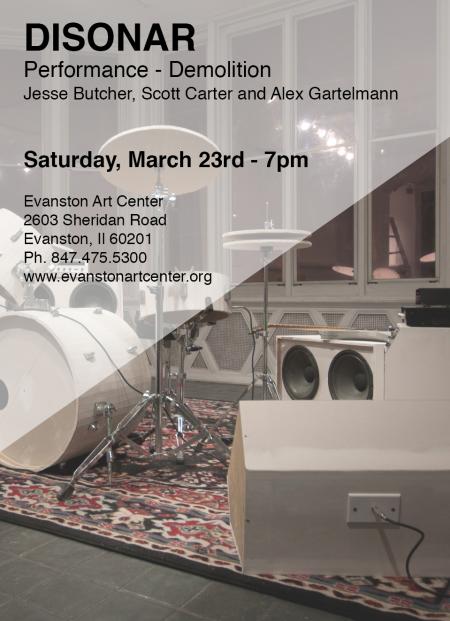 Saturday's performance by artist and musician Scott Carter and his band mates Jesse Butcher and Alex Gartelmann was a smashing success! Over thirty audience members watched the artists/musicians play and ultimatley, destroy, the installation. The piece will be on view through this Thursday. Images from the performance will be in our Image Gallery later this week.
By constructing functional replicas of instruments out of common materials he's attempting to conflate two disparate skill sets and forms of expression through performance. While a drum set made from drywall actually functions and produces sound, its indented use is partially stripped due to the vast difference in resonance, tone and its inability to withstand force. However, during the process of playing this instrument, rhythms are found, that in his mind, reflect the droning of multiple hammers sounding across a newly constructed suburban neighborhood.
In the end, these instruments will fail and begin to deteriorate, referencing a natural cycle of decay in domestic architecture and visually mirroring a demolition site.
Admission is free and open to all.