Date:
Thursday, March 28, 2013 - 6:00pm

to

Thursday, April 25, 2013 - 6:00pm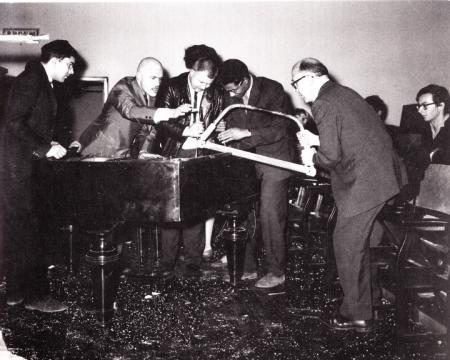 Dialogic Communities is an experimental multi-month participatory art and culture discussion series that is free and open to the public. In conjunction with Insight Arts' Craig Harshaw Dialogic Communities seeks to inspire thoughtful dialogue and reinvigorate the spirit of community while serving as a productive social model. This informal discussion invites regional community members, scholars, and the public to discuss a range of topics in art and culture (e.g. contemporary art history, theory, criticism, unique artist projects, the everyday, and visual and material culture). 
How it Works: Evanston Art Center Director of Education Keith Brown and Insight Arts Executive Director Craig Harshaw select an article from the contemporary art world and post it online for a few weeks. People are encouraged to access the document on the EAC website or EAC's Facebook page, download/see the link/read it, and if compelled, show up to the Evanston Public Library on the last Thursday of this month at 6pm to discuss the article with others.
Where: Evanston Public Library, 1st Floor Meeting Room (1703 Orrington Ave.)
When: 4/25, 6pm
Current Readings:
4/25 Randy Kennedy, Outside the Citdel, Social Practice Art is Intended to Nurture, March 2013
4/25 Jerry Saltz, Jerry Saltz on Tilda Switon in a Box and How Living Art has Become MoMA's Crystal Meth, March 2013
3/28 Anton Vidokle, Art Without Markets, Art Without Education: Political Economy of Art, e-flux, March 2013
2/28 Andy Beckett, A User's Guide to Art Speak, Guardian, UK, February 2013 
Supplemental Reading for 2/28: Alix Rule and David Levine International Art English, Triple Canopy, July 2012
Dialogic Communities Series I:
8/30 Hal Foster, Post-Critical from October, April 2012
9/27 Alexander Alberro, Life Models from Frieze, June 2012
10/25 Claire Bishop, Digital Divide from Art Forum, October 2012
11/29 Ellen Feiss, What is Useful? The Paradox of Rights in Tania Bruguera's Useful Art, Art & Education, November 2012