Ariana, our EAC Intern and a freshman at Shanghai University in China, writes about her favorite artwork on display in our newest exhibition, Design is a Verb: Chicago Sculpture International Biennial curated by Alyssa Brubaker. Design is a Verb is on display in our First Floor Gallery from July 27 - August 26, 2018. Learn more:
I'm Ariana, a freshman in Shanghai University. After 13 hours flight from China, I finally arrived at this gorgeous Evanston Art Center as an intern. I have been imagining what the place would be like, but when I arrived here, I found it even more beautiful than I thought. 

我是李嘉怡(英文名:Ariana),是一名上海大学的大一学生。经过13个小时的飞行,我最终抵达了超棒的埃文斯顿艺术中心,作为一名实习生。我一直都在想象这个艺术中心会是什么样子的,但当我真正来到这里时,我才发现它远比我想象中要美丽。 

There are lots of art works here, and I find each of them unique and well-designed. However, only one piece of them tightly catch my eye. Its name is Rest in Piece, created by Sunny Han in 2018.  

这里陈列着许多艺术作品,我发现每一件都很独特并且设计精良。然而,其中一件陈列品紧紧地吸引住了我的眼球。 这件作品名叫"在一起",是艺术家Sunny Han在201年创作的。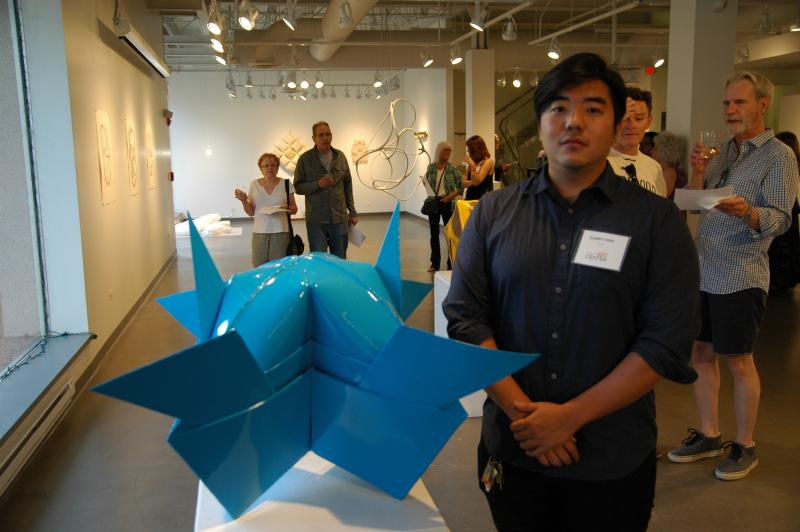 When I was just look around in the art center, a cloud of bright blue suddenly attracted my attention. Gradually approaching it, I found an amazing thing that only 4 points of it touch the ground while other part of it hang in the air. What a ingenious structure! As its creator says, "The point of constructing something is to move towards an increasingly elegant visual structure," this art works is really a visual feast. 

当我在艺术中心里四处看着,突然一大片明亮的蓝色吸引了我的注意力。当我走近它时,我发现了一件令人惊叹的事情,整件艺术品只有四个受力点,其余的部分竟然都是悬在空中的!多么精妙的结构啊!正如它的创作者所言,"建造一样东西的意义在于使它尽可能地向着一个优雅的结构靠近。"这件作品真是一个视觉上的盛宴。 

I think creating a permanent bond between the artwork and people is all the artists trying to do. From this perspective, this art works is completely successful. It looks like a piece of paper folded in a special way, which reminds me of a kind of origami I played with my friends in my childhood. It makes me remember those happy and freedom days, which I think is the meaning of this art works. 

我认为,在艺术作品和人之间创造一种永久的联系时所有艺术家努力实现的事情。从这个角度而言,这件作品无疑是个极大的成功。它看起来像是一张纸以一种特殊的方式折叠,这让我想起我儿时和朋友们玩的一种折纸游戏。让我记起那些幸福而无忧无虑的日子。这是我认为这件作品的伟大意义所在。