Ethan, our EAC Intern, writes about his favorite artwork on display in the studio exhibition, Variations: Students of Eleanor Spiess-Ferris. Learn more here: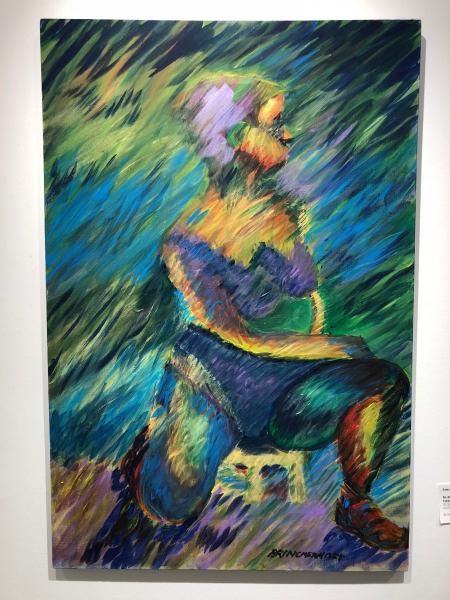 In the painting No Apologies to Mr. T, Ophelia Rises and Takes a Knee by Peter Brinckerhoff [on view in the studio exhibition Variations: Students of Eleanor Spiess-Ferris], we see a blurred figure kneeling down on one knee. In the title, it says "Rises and Takes a Knee" which can be interpreted as kneeling down to stand up against injustices. In the climate of the current social world, where there are many controversies surrounding diversity, this piece highlights the power of standing up, or kneeling rather, for something you believe in. Though the initial message is unknown to me, this painting has the possibility to be interpreted in many ways which speaks to the power that it has. Brinckerhoff uses his voice in this piece to make people think and reflect upon how they feel about issues that affect many. The overall piece however requires one to look closely to understand.
Brinckerhoff creates this piece by using a variety of colors and small strokes to come together to form the image. This image initially draws people in with its vibrancy and interesting design. The strokes creates a flowy feeling for the painting and makes the audience look closer, which also requires the audience to think harder about the message of the painting.