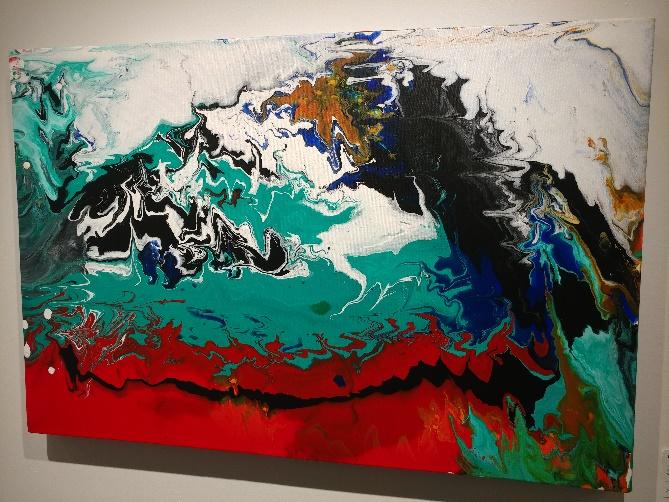 Over the Rainbow's unique implementation of acrylic pour on canvas leaves an impressionable and vivid image that captures the attention and positionality of the observer creating a sense of self-reflection and interpretation. As part of a larger collection, Over the Rainbow's technique of acrylic pour consists of combining acrylic paint with a medium affecting the viscosity of the paint. Every unique combination influences how each color interacts with one another when applied to canvas creating an image that is impossible to replicate.
While each piece incites emotion within the observer, the vision behind Over the Rainbow makes every contour meaningful. Founded with the intention of being a lead provider of affordable, barrier-free housing solutions for individuals with physical disabilities, Over the Rainbow has not only provided such housing, but also, resident service coordinators that help build support networks amongst the residents. Through the resident services program, Evanston Art Center has formed an ongoing partnership with Over the Rainbow creating a platform that encourages community engagement as well as self-expression through the support and guidance of EAC instructor Mollie Morris.
Mollie currently holds a M.A. in Art Therapy and Counselling from The School of the Art Institute of Chicago. Recognizing the importance of art education, Mollie's degree compliments her passion of art instruction through classes that emphasize self-expression and diversity. By bringing positive energy to the creative environment, Mollie helps to create an inclusive space in which artists feel comfortable revealing a part of their self that is only observable on canvas.