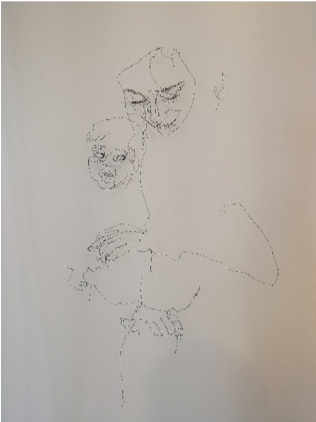 On his last day of work, Jeffrey, our EAC intern from China, writes about one of his favorite artworks on display in the exhibition Paula Froehle, Deborah Hirshfield and Laurie LeBreton:
It's time to say goodbye to EAC. I love the slogan "Art for everyone". During my stay, I'm so lucky to view three
exhibitions in EAC and all the artworks showed incredible imagination and creation that inspire me a lot. Today a group of works created by Paula Froehle fascinates me about her stunning ability of line application.
Compared with other pieces in the gallery, those needleworks are more simple. Without polychrome materials, she uses yarn to depict eyes, faces, and the emotion behind.
The left one names Care. We can easily understand that it shows a mother caring for her baby. Less is more. Paula doesn't apply any more line to draw the bodies except for the hands of the mother which concisely reproduces the moment that she holds the baby in her arm closing eyes and smiling slightly.
More interestingly, Paula uses three layers of tulles in Grief. The outer layer shows four gloomy expression and two crows on the rear one. This idea can not only generate a sense of layers but also reveal the psychological relation between the grief and the crows.
I love art and this is what makes me be an intern here. I will never say goodbye to Art. I love art.