Interviewed by Millicent Kennedy
Rafael E. Vera's installation TBD… nevermind is currently on display at the Evanston Art Center as part of the Evanston + Vicinity Biennial: Group Exhibition. I recently had the opportunity to speak with him about the shift in his work that led his art practice in this new direction.
Rafael E. Vera is drawn to rituals. Performing and art making requires setting rules, sticking to a schedule and eventually breaking the rules that were originally set. In his time at the School of the Art Institute of Chicago while receiving his MFA and his twenty-plus years in Chicago, Vera has researched and made work that spoke about home and his continuous interest in the transition. Later in his Art career, Vera utilized building materials and domestic objects to create highly autobiographic work. We see this style in his 2015 exhibition, The Moments Between, at Columbia College.  Pairing contradictory materials like fork lifts, dollies, glass, concrete and new pillows, these materials become stand ins for bodies. This anthropomorphized nature to Vera's work considers the objects used to build homes as characters, elevating home life and construction to an epic play.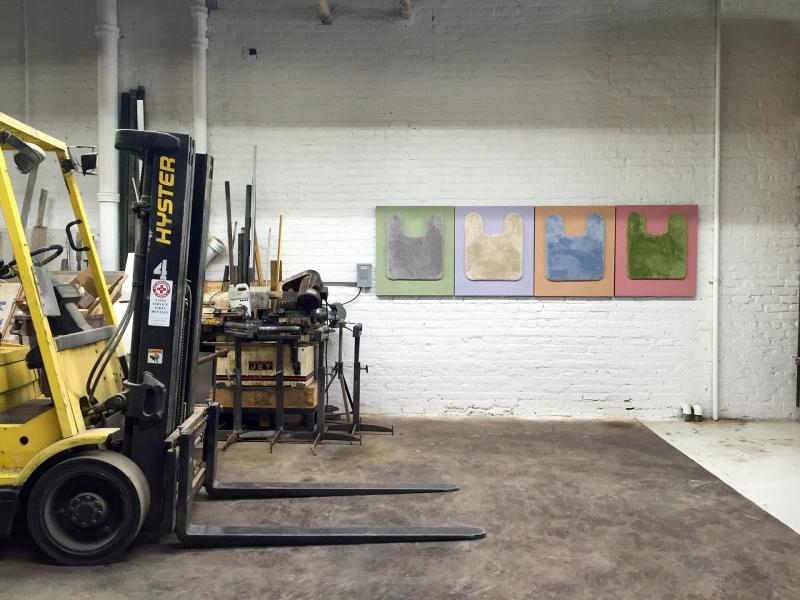 As part of Vera's Residency with the Chicago Artist Coalition's HATCH in 2014-15, he collaborated with Jessica Caponigro, and Jeffrey Michael Austin to create Rough Idle. In this three person show, the artists allowed themselves to quote one another, creating a more cohesive show, and allowing each artist to experiment. In this show, Vera took bath mats that go around the base of toilets and mounted them onto painted canvas, allowing them to be "paintings" and color studies. These works embrace kitsch in a way that you rarely see with Vera's previous work. Vera saw these pieces as a culmination of a long body of work that dealt with ideas of domesticity and relationship, which allowed him to move forward to other topics.
Collaborations with music composers, performances based on Butoh dance and new works about politics and sexuality are some of his most recent ventures. This is seen clearly in TBD… nevermind, currently on display at the Evanston Art Center. And though it is a departure in theme, it holds common ground in sensibilities. A candle in the shape of a bald eagle sits atop a hand fabricated, dark wood stained pedestal, with unmarked packs of matches, available for visitors to light it, bringing on it's impending demise. Standing next to the candle you can see your reflection in a gold mirrored text reading "OOPS!" with a fractured "P". The timing of the original showing of this work at Kalamazoo College in Michigan was the week before the 2017 inauguration, and Vera felt strongly such occasion needed to be addressed. The breaking of the "P" mirror piece, allowed for an additional Duchampian moment of happenstance. The P, like Duchamp's Large Glass, broke during transportation, which serendipitously allows the work to be finished. As Vera said "It was an oops in every sense of the word. We didn't expect Trump to win, at least a lot of us didn't, and I wanted the viewer to see themselves in the word"
Vera's work will be on view in the Evanston Art Center's First Floor Gallery through August 31st, as part of the Evanston + Vicinity Biennial: Group Exhibition.
Posted By
Millicent Kennedy
Blog Image