Jeffrey, our EAC intern from China, writes about one of his favorite artworks on display in the Loyola AP Show:
Recently we have exhibited a series of works by junior & senior high school students from Loyola Academy. Among those, Riley's works appeal me most which strongly show me the fascination of architecture through inspiring ideas. I think the piece below is the most amazing one. According to her own statement, she evaluated 4 different images from Daniel Burnham's architecture and created a transition piece. We can see that the first one looks like abstract geometric patterns with integrity but finally it is separated by more details added.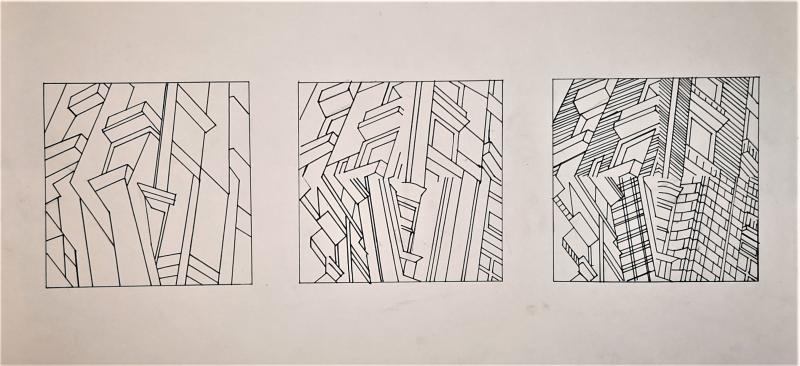 From the viewer's perspective, it is a concretizing sequence but obviously, Riley did it from the opposite. Her incredible insight helps extract continuity in one-dimension from complex reality.
If I pick out the first or the second work and do some coloring, they will both be wonderful pieces that give me mechanical and even little surreal feelings. But Riley chose to present in a group, which stands out by the combination of concrete and abstraction and also the connection between them.
It also reminds me that art comes from life, whatever it is buildings, feelings or something else that give inspiration. By deleting or adding, we store what we want to express into the final draft and hope someone can discover it.
CLICK HERE to learn more about the Loyola AP exhibition.