My name is Zane, a senior student from Ningbo University in Ningbo. I major in display design. I'll act as an intern in this beautiful Evanston art center for two months.
我的名字是zane,来自宁波宁波大学的大四学生。我主修展示设计。我将在这个美丽的埃文斯顿艺术中心实习两个月。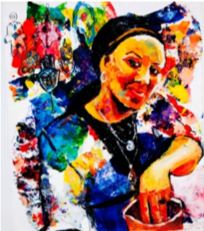 When I enter Evanston art center, I see there are lots of art works here, and I find each of them Sophisticated and elegant . I'm Immersive it. My favorite art work here is "Lael" which is created by Sheri Ross. Sheri Ross is both a medical doctor and a special artist. She work is based on photos that she has taken over the years
当我进入埃文斯顿艺术中心时,我看到这里有很多艺术作品,我发现每一件作品都很精致优雅。我沉浸其中。我最喜欢的艺术作品是由Sheri Ross创作的"Lael"。Sheri Ross既是医生又是一位特殊的艺术家。她的作品基于她多年来拍摄的照片。
The first thing this painting gave me was to draw an ordinary woman. It is dominated by warm tones and the clothes are heavily blue and black. The background is blurrying. The background have a Christmas tree and there are many Christmas tree pendants hang on the tree, Symbolizes the beauty of the New Year. When I think carefully, I found her face full of happiness. I think this painting expresses the joy of the New Year and a good yearning for a new life. That's why Sheri Ross is the winner of the People's Choice Award.
这幅作品给我的第一眼是画的是一个普通妇女。它以温暖的色调为主,衣服是蓝色和黑色。它的背景模糊。背景有一棵圣诞树,有许多圣诞树吊坠挂在树上,象征着新的一年的美好。 当我仔细思考时,我发现她的脸上充满了幸福。 我觉得这幅画表达了新年的喜悦和对新生活的美好渴望。 这就是Sheri Ross赢得人民选择奖的原因。