We are excited to welcome our newest EAC Intern, Terry, a freshman from Fudan Universty, Shanghai, China. Terry writes about his first impressions of the Evanston Art Center in the blog post below:
My name is Terry, a freshman from Fudan Universty, Shanghai. I'll act as an intern in this brilliant Evanston Art Center for three weeks.
我的名字是王胤铭(英文名Terry)。我是一名来自上海复旦大学的大一的学生。我会作为实习生在这个很棒的埃文斯顿艺术中心呆三个星期。
My favorite art work here is Stumbled upon which is created by Emily Stokes, the associate professor of Art at Northwestern College. It's absolutely a good piece.
我这边最喜欢的艺术品是Emily Stoke的"偶遇"。Emily是西北大学艺术系的助理教授。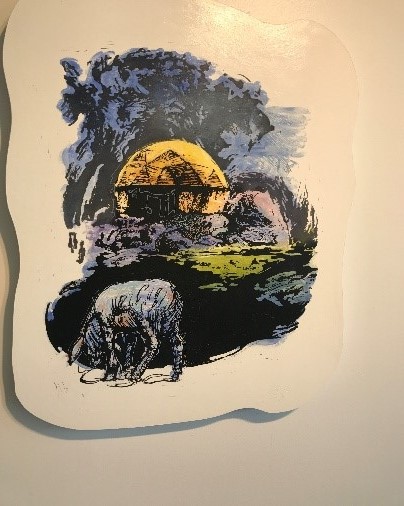 The first view of it is an animal which I am not fully sure about what it is trying to reach something on the ground. The time is probably at dusk as there is a magnificent sunset at the picture above. What's more, speaking of the place, it is possibly somewhere near a lake or an open area of sea because there are reflections under the giant sun. Finally, the whole picture involves things that seem like chaos other than what I mentioned above. All in all, it occurs to me as a feeling of tiredness and luck.
这幅作品给我的第一眼是一个我不知道是什么的动物在尝试够到地上的某件东西。时间很可能是在黄昏,因为在作品的上半部分有一个壮丽的日落。而地点很可能是在湖边或是海边因为在大太阳下面有倒影。最后,整幅画除去我刚刚提到的那些东西之外,还有一些看起来十分混乱的东西。总的来看,这幅画给我的感觉是疲倦和幸运。
The story we could learn from the picture may be as follows. An animal which has just survived a bad day probably involving several escapes from predators is starving. When it comes nearly to night, it encounters something which I guess is a piece of delicious food on the ground. Its happiness goes wildly and then it starts to approach it and it will possibly have a nice meal later.
我们从这幅画种得到的故事可能是以下这样。一只动物刚刚经历了艰难的一天,很可能逃脱了许多次掠食者的追杀才存活下来。而它现在已经快要饿死了。快要入夜的时候,它遇到了某物。我猜测可能是一个很美味的食物。它非常开心然后准备进食。之后它很可能会有一顿美味的晚餐。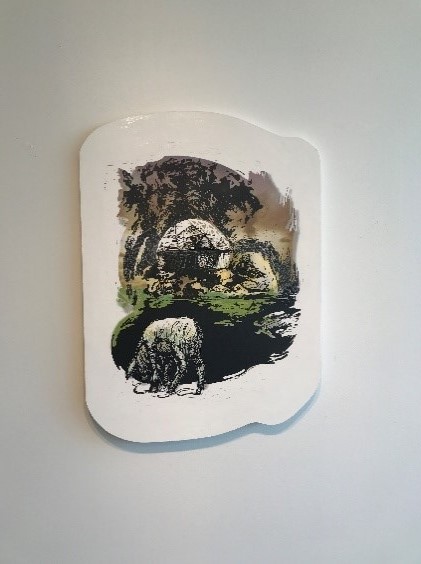 So that's the story that can be traced back to the title "Stumbled upon". A tired day ends with a small luck, which I think many people in reality wants. Life is tough, so when one comes home, exhausted, I think nothing matches a little luck that can bring him a great feeling of happiness.
所以这个故事其实也照应了标题"偶遇"。疲惫的一天以一份小确幸结束。我认为这是许多现实中的人想要的。生活是很艰辛的,因此当某人精疲力竭地回到家,没什么能比得上一份小确幸能给他带来快乐了。
In addition, Emily didn't complete this work in a single one. Instead, she paints several versions of it by changing the contrast ratio and color. That's similar to Andy Warhol's series of Marilyn Monroe that demonstrates different feelings of one piece of work.
同时,Emily没有以单幅画的形式完成这件作品。相反地,她通过改变颜色以及对比度的形式画了好多幅。这和安迪沃霍尔的玛丽莲梦露系列类似。这样可以通过一幅作品表现多种感觉。
At last, if we get closer, we can see some letters on the animal's body which is 'l', left-to-right reversed 'a' and 'm' and a 'd'. I fail to know the exact meaning of it, however, I think of it as a try to show some link between the animal and humans.
最后如果我们靠近,我们可以看到在动物的身上有些字母。它们是"l",左右颠倒的"a"和"m"以及"d"。这些我不知道具体意思,但是我认为它们可能代表了动物和人之间的某种联系。
To summarize, it's my favorite piece of art because it is impressive with different colors and emotions. Moreover, what I wrote above is mostly my own opinion, if it's wrong, please excuse me for that.
总之,这是我最喜欢的作品,因为它通过不同的颜色和饱满的情感令人印象深刻。另外,上述所写仅代表我个人观点。如果有错误,请见谅。