Image: (Left) Verena Brassel, "Old Script of the Qumran."  (Right) Verena Brassel, "History of Qumran."
America has long been referred to as a melting pot. This fusion of diversity is reflected in Chicago, America's third largest city.  You may work with Poles, Germans or Asians, then dine at one of the many Middle Eastern, Chinese or Mediterranean restaurants found throughout the city.  On any given day, Chicagoans may feel blended into our amalgamated world. But examining Verena Brassel's paintings in her exhibition, "Expressions From Ancient Roots: A Spiritual Journey," at the Evanston Art Center (EAC), just north of Chicago, reveals a fresh perspective on the subject of merging cultures and histories.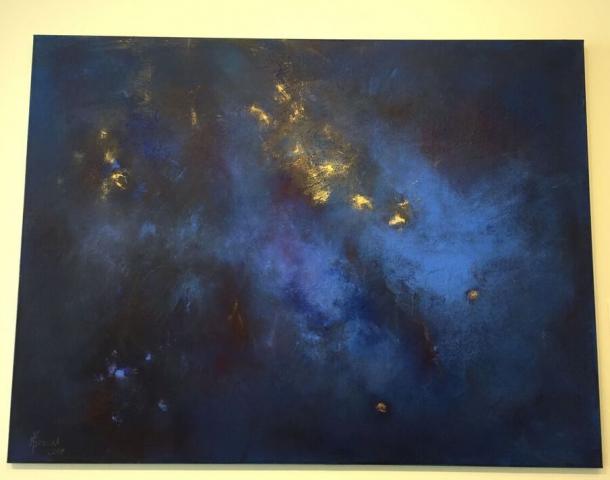 Image: Verena Brassel, "Stardust."
Layers of paint create textured surfaces in Brassel's paintings, often revealing a mix of abstraction and words. The Swiss artist communicates through her artistic style and materials: the viscosity of paint and movement of mixed color guides the visitor's eye throughout the canvas. "Stardust" depicts a heavily worked navy blue canvas with bursts of gold. The contrast of colors pull visitors in, gazing into this infinite sky. "History of Qumran" portrays another worked surface of lighter colors, primarily white with some yellow and red; the middle contains indiscernible words with a cacophony of of black and gold exploding at the top of the page-sized document.  
Brassel says her mixed media works are influenced by historic artifacts from trips to Israel, India, Morocco and the Orient, where she frequents ancient sites and collects soil, old manuscripts and indigenous materials. Rather than alluding to these historical items, she physically incorporates them into the paintings themselves, thereby "experienc[ing] a deep connection with the heritage of ancient peoples." At the same time, these physical layers also imply their metaphysical and emotional narratives. As visitors stand before physically and emotionally charged works of art, they reflect upon the rich stories that make up their lives and the lives of others.
"Expressions From Ancient Roots: A Spiritual Journey" debuts at a time when the world is torn by a refugee crisis and terrorist attacks. Although Brassel stresses the historical component to her art, there is another way to view her work: understanding cultural differences and societal divides. She brings many parts into a new whole: creating awareness of a past that may be unfamiliar to visitors. In this way, her images—rich in color and laden with meaning—suggest the creation of new spheres, new beginnings and a different lens to see and apprehend the world.  
The diversity of Chicago and its burgeoning art scene make it an apt location for Verena Brassel's solo show. And accolades should go to the EAC for hosting such a powerful and timely exhibition. A message on the blending of cultures, societies and histories can be lost in troubling times—even in the melting of the USA. "I would like to contribute to the mutual understanding of peoples," Brassel expresses. A show like this is a step in the right direction.  
"Expressions From Ancient Roots: A Spiritual Journey" is on show through December 20.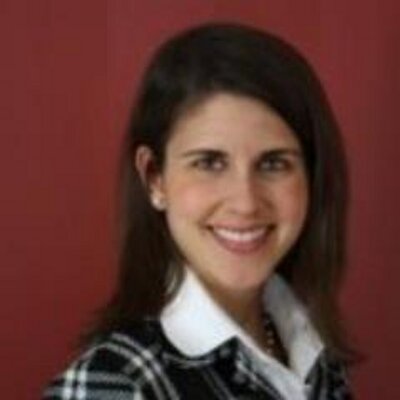 Amy Haddad is a Chicago-based freelance art writer and blogger. She contributes articles to 
Scultpure Magazine, Create Hub, Newcity and the Evanston Art Center. 
She has a personal art blog, 
Art Diversions
, and tweets about art 
@amymhaddad
.
Blog Image