SIDE/LOT, an experimental video showcase of work by local Evanston artists, will present an outdoor screening that will take place on the north side of the Art Center on June 1, 2018 at 8PM, in addition to regularly scheduled indoor screenings throughout June (scroll to bottom of this page for the full filmscreening schedule). Featured filmmakers include Jonah Charlton, Sabba Elahi, Joey Garfield, Alice George, Kevin Valentine, D65 Animators (Benji, Faith, Finn, Jahvon, Josie and Sophia).
As a part of this collaboration, artists Erin Hayden and Jeff Robinson will present a large-scale outdoor installation titled SELL ME DIRECT that explores the liminal state of parking lots. This work engages the east side of the Evanston Art Center (facing the entrance and within the parking lot). With structures of spending and navigating on the mind, Erin Hayden and Jeff Robinson installed a set of interrelated works which address the parking lot as a cultural space. Erin Hayden's installation consists of three banners that extend the height of the EAC building to create a digitally collaged image that presents the parking lot as a playful transitional setting from car to shop. Jeff Robinson's installation is located in front of Erin's installation in the gravel area that separates the building facade from the parking lot. Jeff's installation consists of three sculptures approx. 6ft tall, each containing imagery culled from highway, road, and parking signage. While Erin Hayden's work is a flat hanging mesh fabric, Robinson's work consists of wood and other sculptural material meant to be viewed straight on like the way we watch television, ready to consume all its messages. In ​Sell Me Direct, ​Erin and Jeff present discreet works, which placed together amplify their exploration of site, infrastructure and consumer culture.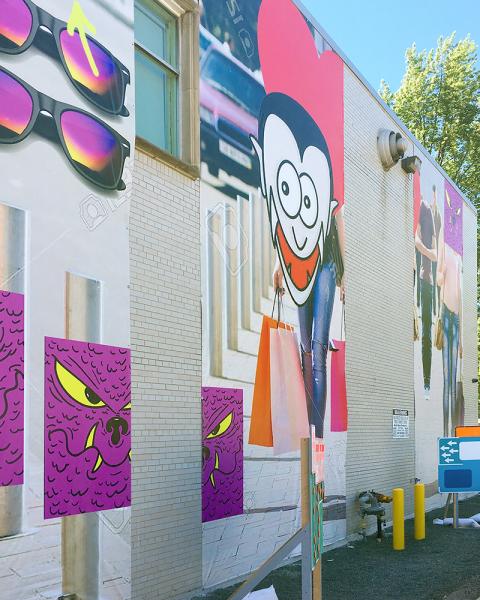 Sell Me Direct ​is curated by Mat Rappaport and Anne Hayden Stevens, curators of the Terrain Biennial in Evanston. In this installation, designed specifically for Side/Lot at Evanston Made, the two artists exploit the liminal state of the parking lot. Robinson's sculptures point to the anxiety and heightened awareness we feel when in transition. Hayden's large banners explore the anticipation of acquisition. As curators, we appreciate the way these two pieces enhance each other while having distinct visual language. The scale and visual vocabulary are harmonious with the outdoor site. The full installation is both whimsical and reflective, aesthetically powerful and gently humorous. 
Artist Bios 
Erin Hayden currently lives and works in Evanston and Chicago. She received her MFA in Art Theory and Practice at Northwestern University. Her work has been exhibited in various cities across the US and abroad including at Stony Island Arts Bank and Galleria d'Arte Moderna e Contemporanea Torino. Solo exhibitions of her paintings and video work have been shown at Mana Contemporary Chicago and Randy Alexander Gallery. She has been an artist resident at the Ragdale Foundation, the Banff Center for Arts and Creativity, and was recently awarded to be one of Chicago Artist Coalition's Bolt Artists-in-Residence. In 2017 she was awarded a Luminarts Fellowship. She has been featured in reviews and publications including ​Frieze​, the Chicago Tribune​, Lori Waxman's ​60wrd/min​ art critic, and ​NewCity Art​. 
Jeff Robinson is an artist and curator based in both Evanston and Springfield, Illinois. He received his MFA degree from Illinois State University in 2011. Robinson has exhibited at venues that include Roman Susan (Chicago), Ski Club (Milwaukee), University Galleries of Illinois State University (Normal), Rosalux Gallery (Minneapolis), Outhaus (Urbana), and E. Tay (New York). His work has been published in New American Paintings and Manifest Gallery's International Painting Annual. His work has been featured on Daily Serving, in ​NewCity Magazine (Chicago), and in the ​Riverfront Times (St. Louis), among others. In 2014, he received an Individual Artist Support Grant from the Illinois Arts Council. Robinson has worked as artist-in-residence at Ragdale (2017) and ACRE (2017). In addition to his studio practice, Robinson serves as Instructor of Art at the University of Illinois Springfield, as Director of the UIS Visual Arts Gallery, and as co-director (and co-founder) of DEMO Project. 
RELATED EVENTS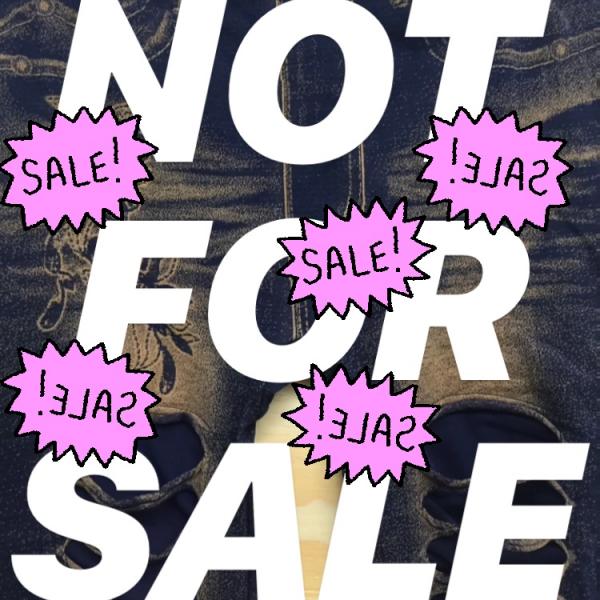 SELL ME DIRECT ARTIST TALK & PERFORMANCE
Saturday, June 16 at 1pm
Please join artists Erin Hayden and Jeff Robinson for an artist's talk and performance. The talk will begin at 1pm inside the Evanston Art Center with a slide presentation about the artists' work. The talk will be followed by a performance, titled NOT FOR SALE, outside the Art Center at their installation by Hayden and special guests. Hayden will activate the SIDE/LOT through a series of sayings and gestures that speak to the impersonal passageways we transition through on a daily basis while also hosting a selection of past and present Northwestern MFA artists to perform, enacting the SIDE/LOT as a stage. Performers include Max Guy, Kandis Friesen, Shai-Lee Horodi, Hyun Jung Jun, Chris Smith, David Sprecher and Titus Wonsey.
FILM SCREENING SCHEDULE
Outdoor film screening: June 1, 8 – 9pm
Indoor film screenings:
Tuesday, June 5, 7 - 8pm, screening no Q&A
Tuesday, June 12, 7 - 8pm, screening no Q&A
Tuesday, June 19, 7 - 8pm, screening and Q&A with all filmmakers
Tuesday, June 26, 7 - 8pm, screening and Q&A with District 65 filmmakers
CLICK HERE for film descriptions and more information on the filmmakers!