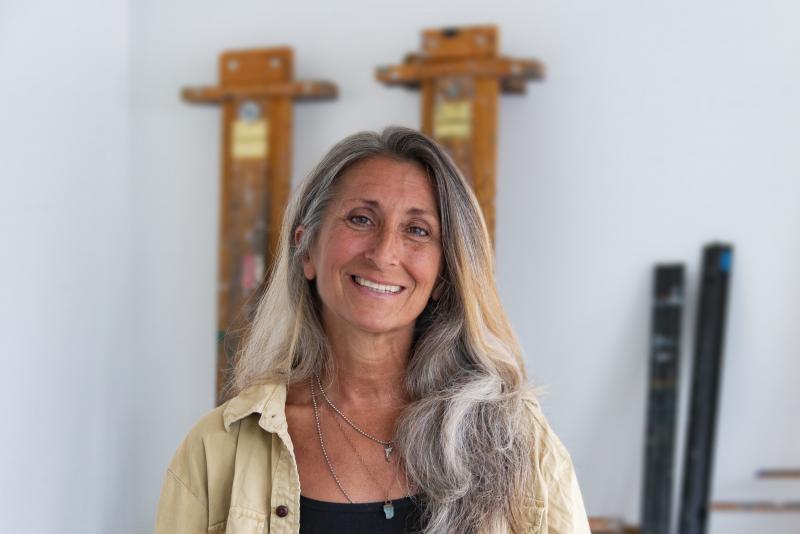 Georgia has a variety of works that range from paintings on earthen materials to portraits, drawings, glasswork, and beads. She will paint anything from garage doors to shoes. Functional and musical art is a specialty and she has a particular fondness for wind chimes.
Education:
Illinois State University - summer intensive of studio painting

Rosary College - one year of fine arts and music

Rosary and Triton College - two years of ceramics

Self-taught and ran a sliding scale community clay co-op and open studio in Forest Park for 10 years
Media:
Mixed media, painting, drawing, sculpture, fabric, natural and found objects
Areas of focus:
Abstract expressionism, realism
Exhibition highlights:
The Heartland Cafe dining room - 2017

Gallery Provocateur NFP, Chicago, IL - 2016  

Bar Rista Cafe, Chicago, IL - 2015-2016

"South Shore Winter," South Michigan Avenue exhibit, Chicago, IL - 2003

Group exhibit, Aldo Castillo Gallery, Chicago, IL - 1994
Other interests and inspirations:
Education, animal rights, fostering respect for all ages and learners, family and community art, health and nutrition, care for the planet, intuitive healing, empowerment through art expression, how things work
Georgia's teaching style:
Her classes are designed to teach useful skills that can be easily mastered and then passed on. Her goal is to make projects that are affordable or zero cost, easy to do, and "on the go". She encourages children to hang on to their art skills.
Georgia loves EAC because . . .
The large studios and workspaces allow for creative minds. The staff are friendly and cooperative with a "Let's try it!" attitude. There is always a variety of new shows, and the displays of everyone's work are well maintained and very organized.
Node Highlight