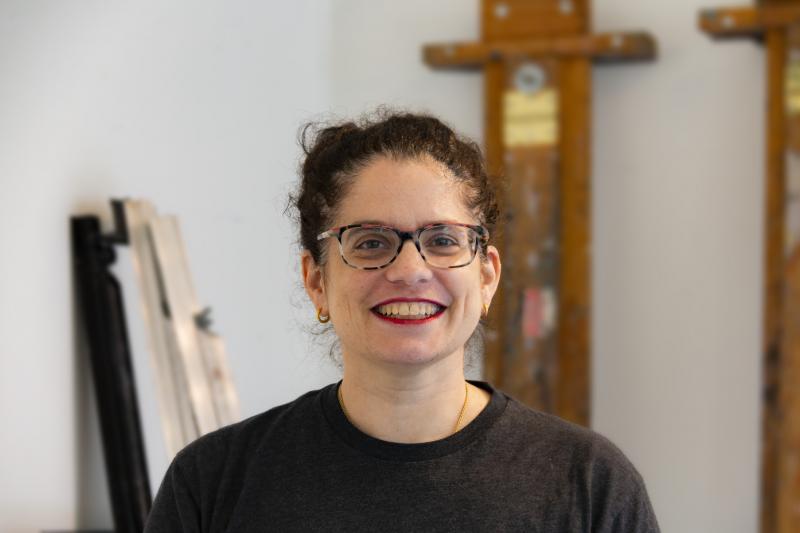 Annie Zirin
Annie Zirin is a fiber artist with a focus on weaving. She is interested in themes of craft and the handmade, as well as feminist political expression through visual arts.
Education:
The School of the Art Institute of Chicago - M.F.A.

Lesley University 

- M.Ed.

Brown University - B.A.
Media:
Weaving, fiber arts
Areas of focus:
Weaving, stitched collage
Website:
https://docs.google.com/document/d/1I80WvdcCZY1-GxJU6M6M75Kj8aZKqInFySIn0PFsNHc/edit?usp=sharing
Other interests and inspirations:
Annie loves fiber art of every kind, self-taught artists, the art of social protest, community organizing and activism, working with children, looking at the natural world, and understanding how things work- machines, political systems and people.
Publication highlights:
"Jacob Lawrence," 101 Real Changemakers, ed. Michele Bollinger, pub. Haymarket Books - 2012
The Teacher's Guide to "A Little Piece of Ground" by Elizabeth Laird, pub. Haymarket Books - 2007
Davis, Ben, 9.5 Theses on Art and Class, ed. Annie Zirin, pub. Haymarket Books - 2013ÔÇ¿
Annie's teaching style:
She believes that art is for everyone and that everyone has a unique artistic vision. Her goal is to create a safe learning space that encourages students to try new things, take risks with their artwork, and develop their personal style.
Annie loves EAC because . . .
The classes are filled with people with diverse life experiences. In one class we may have a teacher, a nurse, a social worker, a teenager, and an engineer who all bring their unique viewpoints into the creative process. This diversity creates a rich and exciting learning environment.
Node Highlight