Start Date:
Tuesday, September 3, 2019
Schedule:
Four days: Tuesday - Friday, September 3 - September 6, 2019, 9:30 am - 5:30 pm
Course Description: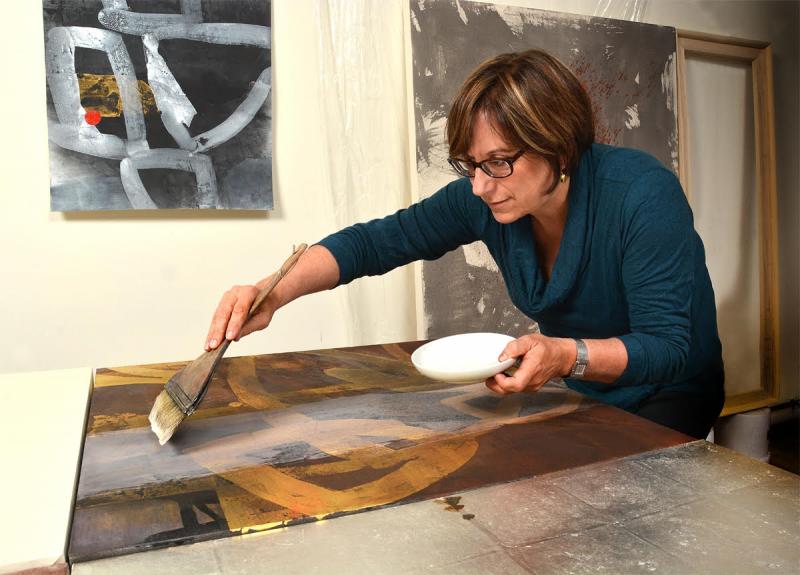 Reinterpret nature's deep imagery and essence employing matter from nature itself within a limited palette. Paint, ink and homemade gesso will be made from inorganic and organic sources including pine soot, shells and earth minerals. Natural metallics and oxidation will be introduced for warmth and depth. These arcane processes have been employed for thousands of years on cave walls, screens and scrolls, and aboriginal works. A variety of drawing, painting and collage techniques will be covered to cultivate individualized expression. This meaningful, process-driven, ecological (non-toxic, water-based) work truly nurtures the heart and spirit. Abstractionists and realists are welcome. Many materials included in price. Click here for a list of supplies that students are required to supply.
Skill Level: All Levels
About the Teaching Artist
Judith Kruger is an American visual artist whose abstract paintings, prints and mixed media works explore Human-Environment connectivity. She is recognized internationally for her advocacy for natural painting materials and ecological, historical processes. 
For more information: www.judithkruger.com
Pricing Details
Your price, which appears in the box to the right, has been automatically calculated from the following levels:
Regular Rate: $670.00
Member Rate: $650.00
Except for the Independent Study Program, EAC membership is no longer required to take adult classes. EAC members receive a tuition discount on all adult classes, youth classes and workshops. A $75 Independent Study membership is required to participate in the Independent Study Program. The Evanston resident discount no longer applies.
CLASS FULL - Reserve a space on the waiting list