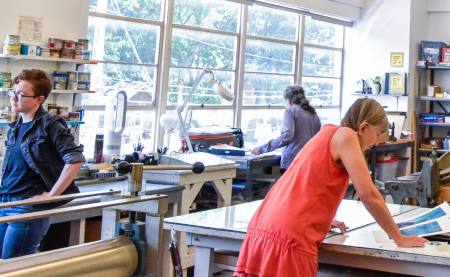 Please think of us when you do your online shopping. When shopping on Amazon Smile, select "Evanston Art Center and Market" for your home needs and other purchases.
TESTIMONIALS
"I think EAC has made a name for itself. It's certainly growing and serving the community. It's changed with Evanston, which had to change. It's no longer the quaint suburb north of Chicago: it's a city north of Chicago, and it's fitting in very well. The variety of shows they're doing, and the quality of the work that's being shown, they seem to be willing to try just about anything to get people from the neighborhood in, and to let them know that they're here. I think the location is great, and it helps to get good instructors and models because we're near transportation and the city." 
- Marge Roche, Dedicated EAC Member and Student (Figure Sculpture Department)
"I was honored to have been invited to curate the inaugural show. I wanted to do something that was reflective of Chicago, which is where I got the idea of Hybrid's Paradise. Chicago is a collection of neighborhoods, a hybrid of ideas and ways of making and thinking. And the move to the new building worked well with the theme, because the new space is a hybrid space for activities at the EAC. The building is more modern, the spaces are more open. You have to think about the exhibition as being in the middle of the space and how people interact with it." 
- Sergio Gomez, Chicago-based Visual Artist & Curator
"The Evanston Art Center is growing in terms of variety of classes in all thinkable directions of art. I like an atmosphere of the art classes. My roots as an artist are in the Evanston Art Center."
- Boruch Lev, Visual Artist and EAC Student (Figure Sculpture Department)
"The atmosphere is nice – it's calm, clean, open. For my process, I need lots of light to be comfortable. The EAC is really bright and fresh; it has a nice simplicity."
- Josh Herman, EAC Faculty (Jewelry & Metalsmithing Department)
"[Evanston Art Center] has a wonderful community, and I value the mission. I felt it was time to step up and joined the board 5 years ago. I see it as a wonderful organization because it gives opportunities to artists to show their work. It's exciting to see the high caliber of work submitted, and share that with the community. I think the exhibitions are getting stronger, and our education program is terrific – I see how we've maintained our standards, grown our classes, and diversified based on what people are interested in. The outreach has always been there, but now it's more visible."
- Debra Favre, EAC Board President and Student (Ceramic and Printmaking Departments)
Image by Ashleigh Pastor