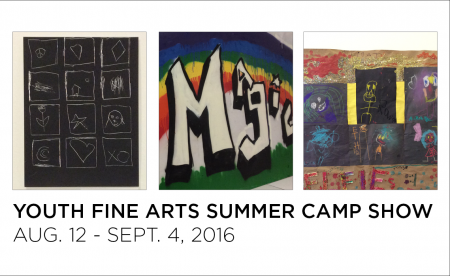 AUG. 12 - SEPT. 4, 2016
The Youth Fine Arts Show is a collection of artwork done by the Center's incredibly talented summer camp students. Our summer camps teach young students new ways to explore and cultivate creativity and new techniques and skills that enhance existing interests. Our students are taught critical thinking strategies, how to look at things from multiple perspectives, and that there are no "right" answers in art, just different ways to approach problems and achieve goals. Our classes this summer were taught by Kathy Cunningham, Susan Tecktiel, Angela Schland, Bonnie Katz, Roberta Miles, and Zebadiah Arrington. 
Students in the show: Halle Fink, Kayla Kupierzky, Haley Handelman, Evelyn Gabin, Jenna Stetter, Allison O'Bara, Eleanor Dillow, Fray Rosenthal, James Caughran, Audrey Tolle, Mia Odsanti, Sarah Tolle, Clara Swartzendruber, Samantha Paris, Whitaker Buck, Yinou Zhang, Lucy Kelly, Owen Hern, Maurice Smith, Isabel Ryan, Rowan Weiss, Tabitha Chew, Amanda Mohart, Wilson Odell, Rina Felemovicius, Hawa Robin, Danielle Agbonifo, Sophie Le Bihan, Katherine Colton, Sophie Thatcher, Nathaniel Frazier, Emma Le Bihan, Brendan Stirnaman, Lucas Gover.
Gallery Hours
Monday - Thursday: 9 am - 9 pm

Friday: 9 am - 5 pm

Saturday and Sunday: 9 am - 4 pm
Galleries are handicapped accessible.

Exhibitions are free and open to the public.