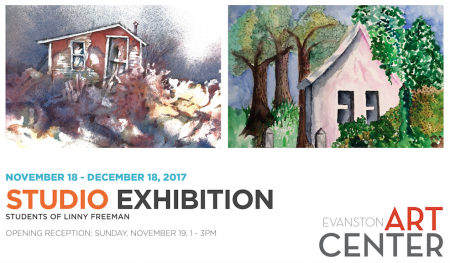 November 18 - December 18, 2017
Opening Reception: Sunday, November 19 from 1 - 3PM
Students of Linny Freeman's Watercolors: Beginning / Intermediate and Watercolor Pencils classes will display their work in our Second Floor Hallway Gallery. In these classes, students learn traditional watercolor techniques including wet-into-wet, dry brush, lifting, glazing, color mixing and much more. Students work with watercolor paints and watercolor pencils to learn skills and techniques in order to produce finished artworks.
Gallery Hours
Monday - Thursday: 9 am - 9 pm
Friday: 9 am - 5 pm
Saturday and Sunday: 9 am - 4 pm
Galleries are handicapped accessible.
Exhibitions are free and open to the public.
Date:
Saturday, November 18, 2017 - 9:00am

to

Monday, December 18, 2017 - 9:00pm