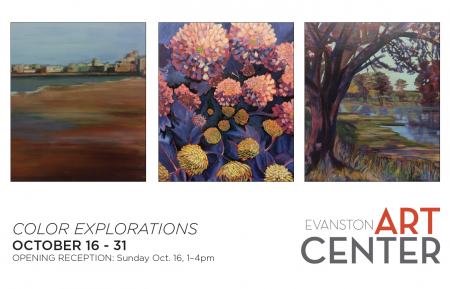 October 15 – 31, 2016
Opening Reception: Sunday, October 16 from 1-4PM
The Evanston Art Center Painting and Drawing department presents Color Explorations , a studio exhibition featuring artworks by students of Nina Weiss's 'Studio Painting: Color Exploration" class.
ARTISTS FEATURED IN THIS EXHIBIT
Diane Andreoni, Maia Blomberg, Brenda Bridges, Julie Porter, Maureen Ruder and Claire Tarnacki
Nina Weiss has been teaching adult classes at EAC since 2005. She is thrilled to showcase the work of her on-going
painting students. Nina's talented students are encouraged to develop their individual styles. Their paintings are imbued with a richness of color and depth. Using a limited palette guided and inspired by color theory, techniques are implemented such as layering, glazing, and broken brush stroke to create complex, expressive color. Students work in both oil and acrylic paint on colored grounds to achieve their brilliant compositions.
Gallery Hours
Monday - Thursday: 9 am - 9 pm

Friday: 9 am - 5 pm

Saturday and Sunday: 9 am - 4 pm
Galleries are handicapped accessible.

Exhibitions are free and open to the public.