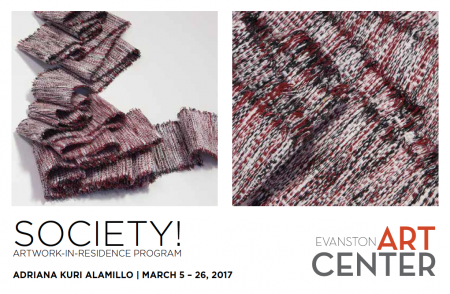 Join us for the Closing Reception of the Evanston Art Center's Fifth SOCIETY! Artist-in-Residence Adriana Kuri Alamillo this Sunday, March 26 from 12 - 3PM!
ABOUT THE ARTIST
Adriana Kuri Alamillo (b. 1993, Mexico City, Mexico) holds a Bachelor of Fine Arts with an emphasis in Art History, Theory and Criticism from the School of the Art Institute of Chicago, and works as a Gallery Manager for Rhona Hoffman Gallery. Her research and writing practice explores the U.S.-Mexico Border as a physical and conceptual space for creation, the formation of a cross-cultural and cross-border identity, and activism through making. She treads the thin line between art and activism, more often than not, in both her studio and research. Kuri lives and works in Chicago, Illinois.
For her project, Adriana is working on a series of weavings, using homemade backstrap looms that visualize and obfuscate the numbered information received regarding the deaths and disappearances related to the War on Drugs. Visitors to the space are invited to write their own thoughts and protests in regards to the war on drugs and the effects it has had towards human life. Adriana has also installed three working backstrap looms, where she will weave on Sundays and Thursdays throughout the course of the residency. This project encourages audience participation in the shared activity of creation, to reflect and to have conversation, because weaving and textile work is, at the end of the day, a historically communal activity.