Arts Outreach Youth Programs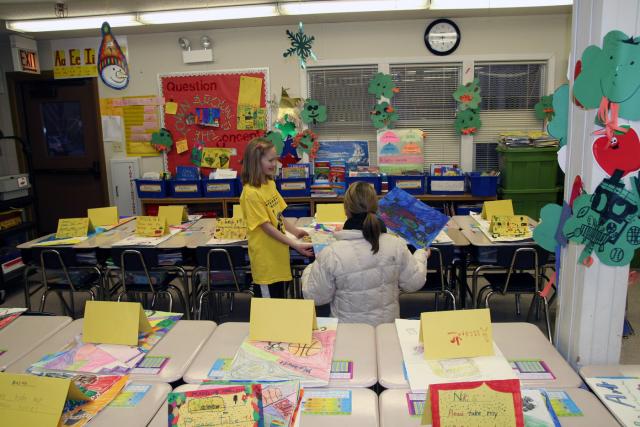 ArtReach served more than 500 elementary school children in the after-school child care program in 12 Evanston/Skokie District 65 schools. Nearly 70% of the children were minority and nearly 60% were from low-income families.
"Each and every ArtReach instructor will tell you that the program has a positive impact toward the self-worth of those who become engaged in the process of making art." - Marti McGinnis, instructor in EAC's ArtReach program, in collaboration with every District 65 elementary school.
The ArtTech program was re-designed for middle school children and was part of the art curriculum at Nichols school in 2009, during the regular school day. Students learned to produce, direct and film a digital video. Support for this program came from the Evanston Arts Council.
Another long running program, ArtFocus worked with students in the "Working Wonders" summer program at Family Focus Our Place in Evanston. An entrepreneurial training program, students in "Working Wonders" learned skills to help them make products to sell in their community.
"These kids are learning fundamental sculptural methods and are being exposed to a kind of artistic involvement that they most likely would never get in school." - Tim Branson, instructor, ArtFocus free summer program in collaboration with Evanston Family Focus
Generation F-Stop combined photography with journal writing as a method for students to identify, examine and articulate issues shaping their lives. Participants in Generation F-Stop were girls in Evanston Family Focus Our Place's "Girls Just Wanna" Program. Using digital cameras, the girls took photographs and learned how to evaluate content and effectively express their ideas. The girls kept journal records of their experience. A selection of the girls' photographs was included in the Art Center's biennial Youth Fine Arts Student Exhibition.
"The girls are given an opportunity to reflect on their surroundings in a way they usually don't do, and they are learning to think visually." - Hui-min-Tsen, instructor, Generation F-Stop
Discover the many ways you can help us...
See what your donations have accomplished...